Celebrating #WorldsBestTeacher: How LAMOSE's Emerald 12oz Tumblers Make the Perfect Teacher Appreciation Gift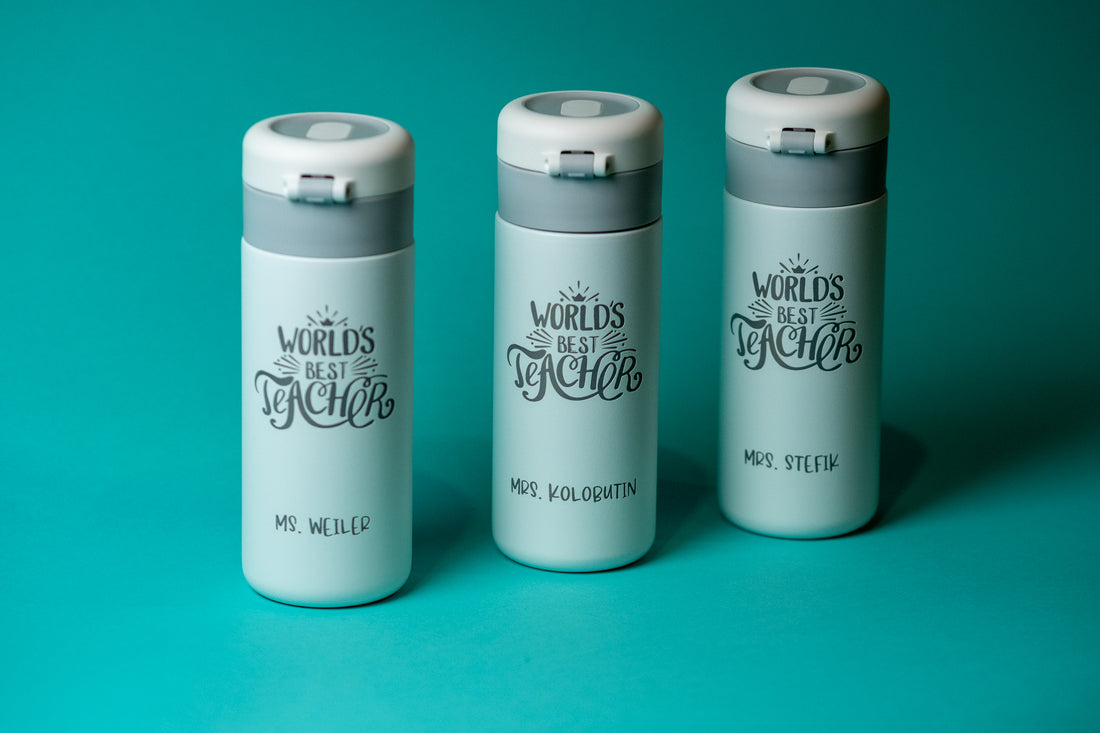 Teachers shape our future, guiding us through the journey of learning with dedication and patience. Recognizing their invaluable contribution is essential, and what better way to show appreciation than with a gift that resonates thoughtfulness? LAMOSE's Emerald 12oz Tumblers stand out as an ideal token of gratitude for these everyday heroes.
The Significance of Teacher Appreciation
Teacher appreciation goes beyond a mere thank-you; it's about acknowledging the profound impact teachers have on students' lives. Celebrating the #WorldsBestTeacher isn't just a hashtag trend; it's a movement to honor the hard work and commitment of educators everywhere.
Introducing the Emerald 12oz Tumbler by LAMOSE
The LAMOSE Emerald 12oz Tumbler is more than just a drink container. Its sleek design, coupled with the practical double-wall insulation, makes it a perfect accessory for any teacher. The light grey color offers a touch of elegance, making it a stylish addition to a teacher's desk or daily routine.
The Power of Personalized Gifts
A personalized gift, like a custom tumbler, carries an extra layer of thoughtfulness. Engraving a teacher's name or a heartfelt message on the LAMOSE Emerald Tumbler adds a personal touch that enhances its sentimental value, making it a much more meaningful gift than a standard item.
Aesthetics Meets Functionality
The aesthetic appeal of the Emerald 12oz Tumbler cannot be overstated. Its elegant light grey color and sleek design do not just make it a functional item for everyday use but also a fashionable one. It's a gift that teachers can proudly display and use, serving as a constant reminder of appreciation.
Designed for Daily Use
Considering a teacher's busy schedule, the practical benefits of the Emerald Tumbler are noteworthy. The size is perfect for their daily caffeine needs, and the double-wall insulation ensures their beverage remains at the ideal temperature, whether it's a hot morning coffee or a cold afternoon refreshment.
Customization: A Personal Touch
LAMOSE offers various customization options for the Emerald Tumbler. From engraving inspirational quotes and subjects taught to simple 'Thank You' messages, these personalizations make the tumbler a unique and cherished gift.
Impacting Teachers' Lives
The impact of such a personalized gift on teachers is profound. Sharing anecdotes or testimonials from teachers who have received the Emerald Tumbler reveals the positive influence these gifts have had, often enhancing their teaching experience and showing them how much they are valued.
Perfect Timing for Gifting
The ideal occasions for gifting the Emerald Tumbler are numerous. Whether it's Teacher Appreciation Week, the end of the school year, celebrating a significant achievement, or a holiday gift, this tumbler fits the bill perfectly.
Ordering Made Easy
Customizing and ordering the Emerald Tumbler is a hassle-free process. With online customization tools, supportive customer service, and efficient delivery options, LAMOSE makes it easy to create and send the perfect teacher appreciation gift.
In Conclusion: Honoring Our Educators
In summary, the LAMOSE Emerald 12oz Tumbler is not just a gift; it's a tribute to the educators who shape our futures. It's an excellent way to express gratitude and admiration for the #WorldsBestTeacher, combining elegance, practicality, and a personalized touch.
Featuring vibrant images of the LAMOSE Emerald 12oz Tumblers, especially those showcasing the various customization options, this blog post aims to provide readers with a clear and appealing depiction of the product. By including real-life stories and customer feedback, the post highlights the tumbler's potential as a thoughtful and appreciated gift for teachers, making it a must-have for anyone looking to express their gratitude to an educator in a meaningful way.